Our Gardens and Playground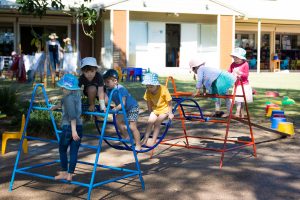 Outdoors we have a beautiful, shady playground with forts, monkey bars, swings, digging patch, vegetable gardens, fairy gardens, bush rocks and two covered sandpits.
One sandpit has a waterfall with water diverted from the rain water tank to encourage sand and water play. Our vegetable gardens are a constant source of wonder and discovery for the child as are the worm farms and sensory pots.
Our Rooms
Our indoor area is spacious and provides ample opportunities for quiet reading, dramatic play, block building, puzzles, construction, singing, dancing and creative pursuits. We are extremely well resourced thanks to the hard work and generosity of our parent body and the wider community.
Children work at their own pace and in areas they are interested in to develop friendships, extend their skills and understanding about the world around them and become more independent and resilient.
The educators at Camp Hill Kindergarten provide a safe, nurturing, stimulating environment where all children are able to flourish.